Fuzzy Phlox
Rosaria Trout Mystery #2
Do small-town residents commit crimes? You bet they do!
On a grand scale? Even better!
If they can get away with it.
But Rosie Trout hasn't dealt with corruption on the national stage just to miss it when it happens at the community garden club. There might be some fleecing going on, but no one's going to pull the wool over her eyes.
Not while she has her wits about her. And not while she can rope Sergeant Flip Baylar into going undercover before someone else gets conked on the back of the head—or worse.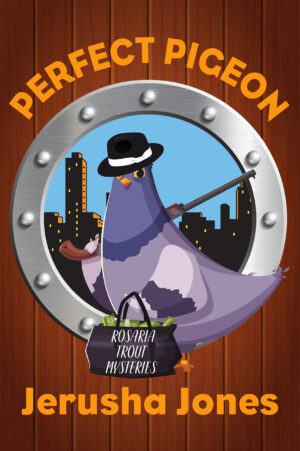 Perfect Pigeon
Rosaria Trout Mystery #3
Evil lurking on her doorstep—or something like that.
Shady characters flitting in and—usually—out of the Stapleton House. In the wee hours. When an insomniac middle-aged woman is most likely to be awake. At first, Rosie Trout can't believe her eyes. Then she believes them all too well.
Her neighbor—the one with the New Jersey accent he just can't hide—is up to something. Like her, he's a transplant from another region, another culture—a misfit. But Ben Hanrahan, the grouch, has never taken pains to fit in.
Now it's pretty clear he has visitors in low places that no one else knew about. Rosie has a nose for these things. But lately that nose has been leading her straight into trouble.
Jerusha's Note: If all goes well, PERFECT PIGEON will be published in 2023. To be notified of new releases, please sign up for my email newsletter.