Iron Sinking
Tin Can Mysteries #7
That soft, timid knock late at night. A hoarse mayday in the dark.
When you live in Marten's Marina, your doorstep is an international shipping lane. So when a half-drowned refugee washes ashore, Eva Fairchild-Malloy and her neighbors scramble to the rescue.
Their castaway is fleeing—from something almost too terrifying to put into words. But the Promised Land isn't really, not if she doesn't have the right paperwork and the right connections.
While Eva and her detective husband, Vaughn, are just beginning their married life together, they're also determined to help this desperate survivor hang on to her tenuous lifeline.
Can they untangle the web of nefarious fixers who work for other fixers—like an ugly, predatory food chain—before there's a break in the links that plunges everyone they love into danger?
Because this dark underbelly of society will kill to avoid being exposed.
Jerusha's Note: IRON SINKING will be published in the summer of 2018. If you'd like to be notified when the book is available, please sign up for my new release newsletter.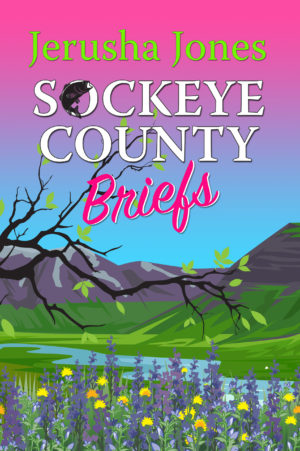 Sockeye County Briefs
Sockeye County Mysteries #2
The middle of nowhere is often on the way from here to there. A thoroughfare, if you will. Nothing wrong with that.
Usually the people who live in the unassuming, odd-name towns along a bustling interstate highway are happy for the trade, the small influx of income, and they tolerate the gas-hog semitrucks and their drivers and the corporate entities who make all that commerce possible.
Until the most valuable form of commerce turns out to be nothing like the logos plastered on the sides of those trailers. Turns out the real money is in a secondary, parallel stream—a fresh wave of mind-altering drugs.
The hard stuff. The unregulated, experimental stuff that's too pure and unpredictable. The stuff that vies with Russian roulette for turning vulnerable teenagers into instant corpses.
Undersheriff Ruby Falcone has seen this before, and it didn't end well. But she survived that first encounter, and in her new adopted home of Sockeye County, she's out to prove that she's learned from her mistakes. She might have to team up with rancher Julian Joseph—a man with his own deep-seated regrets and extensive knowledge of the terrain—to do it.
But nobody who wears a badge—and none of the other concerned county residents—is going to rest until they find the ingeniously planned upstream source and the ruthless, well-connected mastermind behind it.
They might represent just a wide spot in the road, but Sockeye County doesn't mess around when it comes to justice.
Jerusha's Note: If all goes well, SOCKEYE COUNTY BRIEFS will be published in the autumn of 2018. If you'd like to be notified when the book is available, please sign up for my new release newsletter.