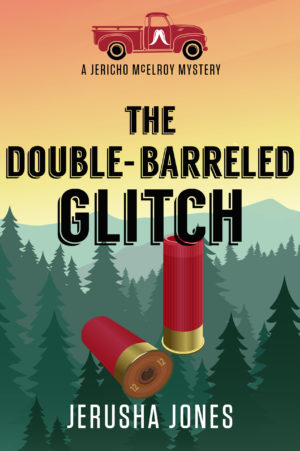 The Double-Barreled Glitch
A Jericho McElroy Mystery #1
Jericho McElroy can reflexively nail the make year of a classic Chevy just by the size of its vestigial tailfins, pinpoint the best locations to stash drugs inside a Honda Civic's door panels, winch anything out of any ditch anywhere, and find the perfect match for the crown molding in his old Craftsman fixer-upper. He generally cobbles together a living by converting just about any piece of trash into some kind of treasure. He also happens to be an expert at fending off the desperate advances of the rabid divorcées in town. It's not a terrible life, and the freedom can't be beat.
But Althea Bingle has died.
Althea might've been the county's longest-standing rude cynic, biting critic and incorrigible busybody, and she definitely won't be mourned, but nobody expects she was capable of physical violence.
So when Jericho finds mummified remains in the firetrap hoarder's paradise that was Althea's mobile home, the news comes as a bit of a shock—to him and everybody else.
While it would be convenient to let the deceased female curmudgeon take the blame for an old murder, Jericho is convinced it wouldn't be right.
Can a humble junk picker/tow truck driver/scrap hauler/handyman clear the name of a woman who most certainly won't be grateful for it without getting into any further scrapes of his own?
Because the killer is enjoying freedom too, and just might kill again to keep it intact.
Jerusha's Note: To be notified when The Double-Barreled Glitch is released (in the summer of 2019), please sign up for my email newsletter.