Nickel Crossing
Tin Can Mystery #11
Why can't we all just cook amazing food and feed our friends? That's what Eva Malloy would like to know. But life in Marten's Marina isn't that quiet—not by a long shot.
Not when greed creates a disturbance with wide-rippling repercussions. Not when somebody quickly-rich and self-important disappears. Not when the master manipulator's absence leaves a void in the funding of his pet projects.
Not when trouble floats right up to the doorstep of the Tin Can.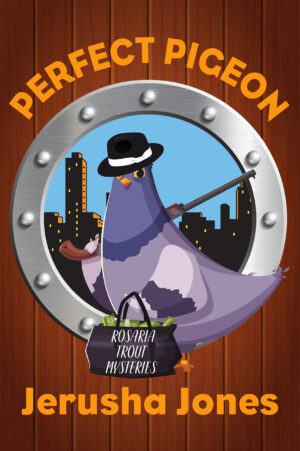 Perfect Pigeon
Rosaria Trout Mystery #3
Evil lurking on her doorstep—or something like that.
Shady characters flitting in and—usually—out of the Stapleton House. In the wee hours. When an insomniac middle-aged woman is most likely to be awake. At first, Rosie Trout can't believe her eyes. Then she believes them all too well.
Her neighbor—the one with the New Jersey accent he just can't hide—is up to something. Like her, he's a transplant from another region, another culture—a misfit. But Ben Hanrahan, the grouch, has never taken pains to fit in.
Now it's pretty clear he has visitors in low places that no one else knew about. Rosie has a nose for these things. But lately that nose has been leading her straight into trouble.